Medical Needs Shelter is a Shelters of Last Resort. The structural integrity of the facilities cannot be guaranteed.
Collocates individuals who have physical or mental conditions requiring limited medical/nursing oversight.
---
MEDICAL NEEDS SHELTER: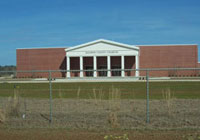 Baldwin County Coliseum
(fka Cattle & Fair)
19477 Fairground Road
Robertsdale, Alabama 36567
NOT ALL SHELTERS will open at the same time. Shelters will open on an "as-needed" basis and are subject to change. Please stay tuned to local television and radio stations for public service announcements regarding shelter openings.
---
The Alabama Department of Pubic Health, during times of mandatory evacuations, will activate emergency Medical Needs Shelters in Baldwin County and other counties throughout the State of Alabama for persons with physical and/or mental conditions who require limited medical/nursing oversight, such as:
Persons living with mild dementia, WITHOUT abusive or wandering behavior
Ostomy patients
Catheter patients
Persons experiencing frequent incontinence (urinary/bowels)
Persons who require assistance with medication that needs to be injected
Oxygen, nebulizer, or sleep apnea therapy that has been stabilized/maintained at home for 30 or more days
Hospice patients
Intravenous patients
Simple dressing changes
Peritoneal dialysis, if either self administered or with family assistance WITHOUT complication
Medical oversight will be provided to individuals who bring their own caregiver, medical supplies and equipment, and any special dietary supplies needed, in addition to presenting photo identification, signing a registration/waiver of liability form, obeying the shelter rules, and being subject to a criminal background investigation.