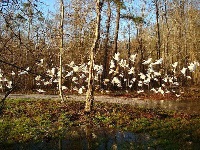 DAVIDA HASTIE NATURE TRAIL
Davida Hastie Nature Trail which contains flora, fauna and wetlands indigenous to Baldwin County, as well as a wetland pavilion which offers visitors an "outdoor classroom" to view and study various species found in the park. As visitors travel along the trail, they will see the park's various exhibits, including a 1910 country store, restored and stocked with items of its day and the Indian Lifestyles exhibit featuring four winter homes and a replica 1800's trade house. A working farm in the park contains subsistence crops typical of the early 1800's. The harvest is donated to various food banks throughout Baldwin County. Visitors may also pay their respects at the Veterans Memorial Park which honors the lives of soldiers involved in our nation's conflicts.
Visitors are encouraged to enjoy the beautiful 2-mile Davida Hastie Nature Trail, which places walkers at arm's length from the beauty of the Mobile-Tensaw Delta. While park construction continues, the trail is open for walking Monday through Saturday from 8:00 a.m. until 4:30 p.m. and 12:00 p.m. until 4:00 p.m. on Sunday. Due to the length of the trail, visitors are advised to begin their walk no later than 2:00 p.m. Monday – Saturday and 1:00 p.m. on Sunday.
All visitors are asked to check in at the Bicentennial Park Welcome Center to receive pamphlets and information describing the Davida Hastie Nature Trail, as well as park exhibits and other historic sites within Baldwin County.
The Davida Hastie Nature Trail is dedicated as a living remembrance to the life and times of Mrs. Davida R. Hastie. Mrs. Hastie was a local Baldwin County historian whose wisdom, dedication, love and commitment to the people, land and history of Baldwin County will never be forgotten.